Post by Nik on Nov 8, 2008 11:46:05 GMT -5
Wednesday 20th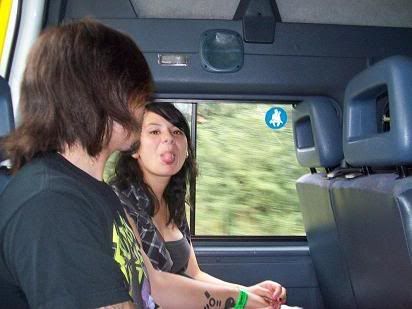 For the 3rd year running I'm heading down on the minibus with the lower 6th contingent. However, unlike the solo missions of the previous two years, this time I'm joined by not one, not two but a truly massive THREE people who are camping with me. So props to Kirk, Keira and Katherine for that! The upshot of this being that I don't have to carry everybody's gear down this year. True, I am still lumbered with Mark's tent…but it's a massive reduction from the 4 tent struggles of yesteryear! Saying that, I'm pretty bloody sweaty by the time I'm wandered through the village. Relief comes when I spot Kirk and Katherine walking towards me. They're making a brief detour to the shops. In that case would they at all mind taking some of my stuff? Result! It's then not long till I make it to the car park, to find Keira sat by herself. After a few odd spurts of conversation with the bus driver people start to show up. Most have gotten lifts here, most of those bastards live closer than me! Clark is the last to arrive, ironic as he organised the thing, and soon we're away once more. I spend most of the journey down in the standard half-asleep journey mode and it don't seem two minutes until I think I recognise the scene outside the window, we turn the corner and pull onto the street the festival entrance is on. Oh yeah, I remember this place!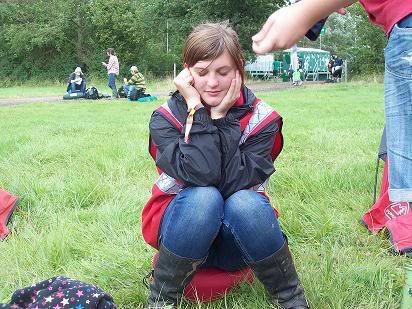 We amble over to the small looking queue and get to waiting. I reckon something vaguely alcoholic is needed and so head across the road to the bizarrely queue free service station to pick up some cheap cider. It's not long after I get back (about 3 quarters of a cans time) that the queue suddenly springs to life and charges us around the corner. Here we see that the queue isn't actually that small at all…in fact it's rather large. About a half-hour later somebody thinks to check out the other side of the thing and realises that we are actually in the box office queue. To be fair, the actual queue was hidden over a hill so we were not totally stupid. There is literally nobody in the queue so we're through in a few minutes. This lack of queue actually backfires somewhat on me as it increases the chance of me getting spot-searched. This only bloody happens. First time in 6 years. And the 1st time I've had anything large on me. So it's farewell to a cream machine and 200 nox chargers. Spectacular, it's not as if that set me back 80 quid or anything. This also prompts security to step up the search, inside wallet, shoes, the fucking lot. Welcome to the festival! Ah well, shit happens I guess.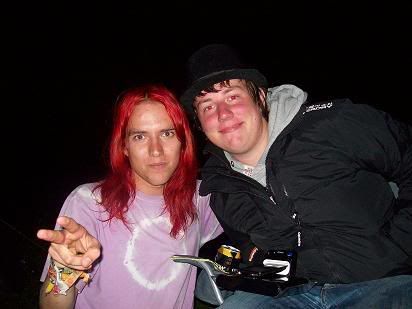 Not long later we arrive at our usual campsite. However something is different…they've only gone and changed the name of the place! So goodbye brown1, we now proudly call our home indigo1. It's right next to purple…and is exactly the same colour. This strikes me as somewhat fucking retarded…but pretty funny too so I'll let it pass! We set to having the odd drink or twenty. Sometime later a tired looking woman in a red hi-vis jacket stumbles over…it's Terrie, who's having a fun day atop a fire tower somewhere further into the site. This has the effect of making me very happy I'm not working and inspires me to step up the drinking, in appreciation that I won't have to get up in the morning. Also joining us after a while is Jonny, also having the time of his life at the top of a lot of scaffolding. We end up in the next campsite along, I think I didn't make the best of first impressions but made up for it by staying there several hours ranting constantly about all sorts of bollocks. Sod it, it's a Reading tradition! I take a wander around the field, subtly introducing myself to many a campsite. The ill-concealed agenda of this wander was a desire for some MD based chemical stimulation. Eventually I did succeed in my mission and found myself being escorted by a 16-year-old to meet a 'proper sound dealer' at the toilet complex. My wallet a fair bit lighter I headed over to gift my company upon the lower 6th. Only I'm not totally sure where they are. So I wander around the whole field asking people. Remarkably this does eventually work…or maybe I just went everywhere. In the event I'm only there for about five minutes before deciding I needed to go back to the campsite for some reason (fuck if I can think what it was!) I did plan on heading strait back but this doesn't happen, instead I ended up taking another brief wander around the field before crawling back into my tent, appreciating the suddenly beautiful ceiling of my tent for a few lifetimes, before surrendering to sleep. About 4/5 I woke with my throat crying out for water…which would have been all right if I had thought to have any in my tent. With every step feeling like a mile I slowly paced out of my tent with the hope of somehow making it to an open vendor. Like fuck did I manage that. Instead I found a fairly clean looking bottle on the floor, washed it out 7 times (I don't know why but I decided this number to be significant) before taking it back to my tent. Pure class as ever.
Thursday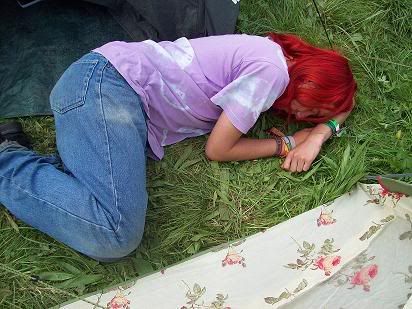 I awake feeling a little bit dead. And by that I mean I felt the worse I've ever felt at Reading. Seriously, I could barely even fucking move. After a little while lying in my tent slowly roasting alive I somehow managed to claw my way out of the tent and continued my lying down dying act outside my tent. While I was pretty much comatose on the floor Jonny swung by on a break from work, kinda good to see somebody who has it worse. Then some bad news reaches us. Some really fucking bad news. Slipknot have only gone and bloody well pulled out! Apparently Joey has done some damage to his ankle/ leg…rubbish behaviour, if he was a real man he'd just drum anyway…that's not impossible surely… After what feels like an eternity I just about manage to sit the whole way up. This feels like a truly massive achievement. I manage to trump even this lofty height when I manage to actually stand up and wander with everybody else to tesco. This was hard work as it goes but I reckon the walk must have done me some good in the long run. In the short term it did lead to me buying an ice cream from a normal priced vendor immediately outside the site which tasted far too good. Simple things. Upon returning we kill some more time just chilling out in the campsite until the arrival of the coach-ticket contingent (also referred to as 'the fucking losers.') That's Kyle, Mark and Zoe if you should feel like taking the piss the next time you see them, although to give them some credit they did start drinking as soon as they arrived. I held off for a few hours more but eventually the task of heavy drinking was resumed.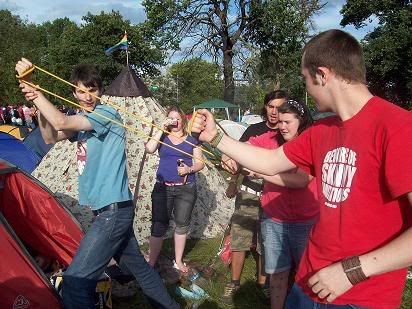 After some traditional water-balloon catapult shenanigans we headed over to the lower sixth campsite to celebrate Sodge's birthday. Any excuse to step up the drinking really. I was pretty much off my face by this point, which didn't bode that well for the rest of the night as it was only about 7PM. After some more catapult action I get a phone call from Alfie, both she and Orton are here. After a few more drinks to build up my walking energy I head off to track them down. It was a bloody long walk, or maybe it only felt like that, but in the end I did manage to track them down. Or rather, Orton found me by charging into me. Good to see I'm not alone in the 'rather drunk, rather early' behaviour. Headed over to where Alfie was camped for a while, a few more drinks (can you see a trend here?) It eventually hits me that the fatreg.com meet-up has probably already started so I slur goodbye and head back to the lower 6th campsite. It still feels like a bloody long way. Once there I'm further delayed by Mark, who is refusing to stand up claiming that it would be 'far too much effort.' After calling him a lazy cunt for a bit I give up and we head off without him…only for him to appear on the path in front of us asking why we were taking so long. If I've not already mentioned it, Mark is a cunt. By the time we arrive in the bar it's pretty obvious that none of us are having a restrained night, fuck, none of us seem to be able to walk in a strait line. For the 3rd year running we meet up with most of the fatreg lot and for the 3rd year running I have next to no idea what the fuck I was talking about or doing. However this year I was nowhere near as bad as Terrie, of whom there may be a few not entirely flattering photos doing the rounds. Actually I'm claiming I wasn't as bad as Kyle either, after all I didn't tell a table of strangers that the holocaust didn't happen and that white was the best campsite side for 'obvious reasons.' I can reason that we must have left at some point because I woke up in my tent but to be honest it all gets blurry here…god I bet I regret this in the morning…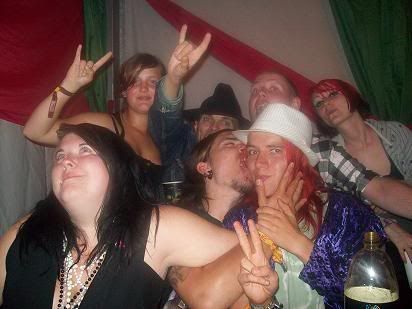 Friday
I regret this in the morning. Although nowhere near as much as yesterday as I can walk without a few hours build-up, which is always a pleasure. And walk I do, back to the shop just down the road from Tesco to refuel on alcohol. I've settled into a 2x 2-litre bottle of strongbow per day pattern, this serves me well for the rest of the weekend and doesn't totally destroy my wallet. Props to Katherine who carried my stuff back to the campsite so I could run off to catch
Future of the left
opening the NME stage. A barrier in the middle of the tent bizarrely halts my progress to the front of the stage, a reaction to the dangerous crush during the Klaxons headline set last year perhaps? While the crowd reaction was very subdued, it seemed like nobody had any idea who the fuck they were, the band played a blinder and by the time the set comes to a far-too-soon close everybody around me has their hands in the air. This really set the bar high for the rest of the weekend, it kinda made me wonder how it couldn't get worse…thankfully I needn't of worried.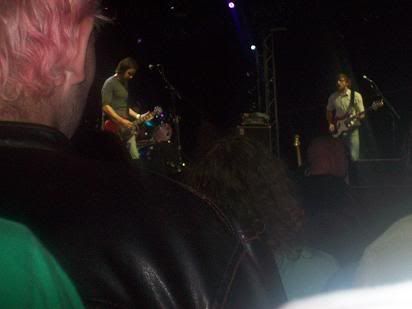 I did originally plan on heading over to the main stage to catch Get Cape. Wear Cape. Fly, I don't really know a lot of their material but I thought I may as well check them out as there wasn't much else on I was bothered about. However in the event I really can't be fucked so instead head over to the alternative stage (why don't they just call in the comedy stage for fucks sake!) where I immediately felt the benefit of sitting down. Oh yeah, we're rocking now! I've arrived in a brief lull in onstage activity but it's not long before
Tim Clare
wanders on stage, apparently late explaining the change in running order, to read some poems, occasionally playing some ukulele too. Bloody hell, I thought this might be the first festival in a while that I didn't see any poets. Thankfully Clare is rather darn good at what he does, while I'm not sure whether I could be bothered with a lengthily set of his stuff I'm perfectly happy listening to a brief set of surreal tales such as sympathising with the other girl from donkey Kong. Up next it's another brief poetry set, this time from
Dockers MC
. Whilst her poems do perhaps drag on a little too long they're mostly worth listening too and she certainly doesn't shy away from throwing herself into the material, excitedly screaming and shouting through much of her set. Looking very much like he was re-animated before the show
John Cooper Clarke
ambles onstage to treat the audience to 45 minutes of rambling set-ups (40 minutes) and the odd poetic diversion (5 minutes.) This works brilliantly and his success is very much all in his bizarre late-stage dementia style delivery, it's hard to see how his jokes, most of which are actually predictable and not at all funny, would work if it wasn't him telling them. But fuck it, this does work and it's not long before each slow utterance is receiving ecstatic applause from a captive crowd. His poems, when he can be bothered to knock one out, are actually pretty darn good (I'd only ever heard the fella's name, not his work) and the only thing distracting from them is the lingering fear in the back of my mind that he might collapse any second. Or that his legs may snap clean in half…seriously how does he manage to walk? Ultimately such thoughts add, instead of detract, from the performance, all contributing to his crazy old man image.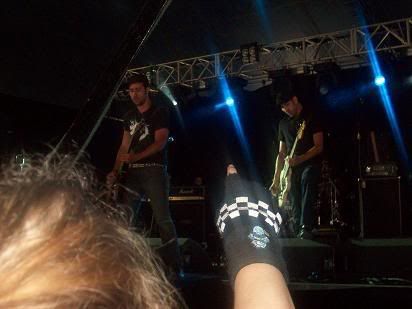 After three poets I felt that it was about time I bothered to go see some music, a crazy idea I know, so I headed over to the lock up stage where I only had to wait around for 5 minutes before
The Briggs
kicked into their predictable yet fun set. Sure they don't do anything particularly new, but they most defiantly do it well. 'It' being frantic three-minute modern punk songs, all manic charge around stage fare, with catchy fist-in-the-air sing along choruses. Somewhat surprisingly I found that I knew a fair number of their songs, which is always nice to realise. Next it's an act that I haven't seen for a whole 7 weeks, which is actually quite a long time when you consider that it's
Frank Turner
. I'm sure you'll be shocked to hear that I thought this was fucking brilliant, shock that could only be surpassed by me occasionally looking over my shoulder to see the packed tent singing along as well. Very much in festival mode, little between song rambling and a lack of downbeat songs, there isn't a dud moment throughout the set (Chris T-T bringing the wrong song book on stage and having to blag the keyboard bits aside!) As I've already mentioned the crowd was very much into it, as demonstrated by one bloke behind me who passed a home-made banner over the barrier and then proceeded to let off a pink paper/confetti thing (what the fuck are those things called) about two centimetres from my ear, making my jump in a rather ungallant fashion. Pretty though. It's all over far too quickly, although it was only a half-hour set I guess.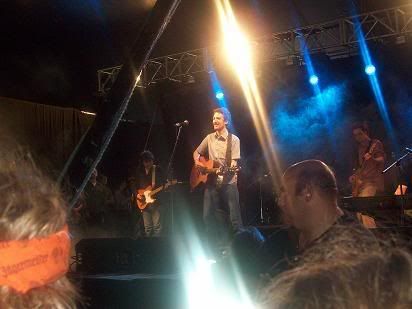 I'm very quickly on the move, aiming to get to the main stage as quickly as possible as
Serj Tankian
is scheduled to start in a whole five minutes time. Thankfully I don't miss a whole lot, for about half of the opening song I'm still charging down towards the front, but was at least within hearing range. Only I'm not at all, not even when I'm right down the front, as the soundman has clearly decided to be a total cunt. Seeing as we haven't been deemed worthy to hear vocals it's left to my somewhat patchy memory of the album to fill in the words I can see Serj mouthing. It doesn't get better as the set goes on, with the volume jumping up and down with psychotic regularity. For fucks sake, I know it's difficult to get sound right on an outdoor stage, it was very windy, but this was fucking terrible. From the silent mime-show going down on-stage it looked like the band (the excellently named 'flying cunts of chaos') were playing a blinder too, something I know they can do from seeing them at the Astoria earlier in the year. Bollocks! Slightly annoyed I half-heartedly wandered over to the alternative stage and sat down…only to see everybody jump up and run towards the front. Would have been rude not to follow. I'm glad I did because I soon learn that the reason behind such madly energetic behaviour is
Stephen Lynch
, a hilarious comic songwriter who prefers things a little on the bad taste side of things. This sits well with the crowd who cheer each and every obscenity, something I'm more than happy to go along with. I could hear it too, which is always a bonus. I was slightly distracted by a person in front of me, who has his hands pressed up against his ears in a theatrical manner, apparently because this helps him hear the lyrics, but thankfully my fascination was short lived…not sure if it would have been a good idea to stare at a nutter like that for too long.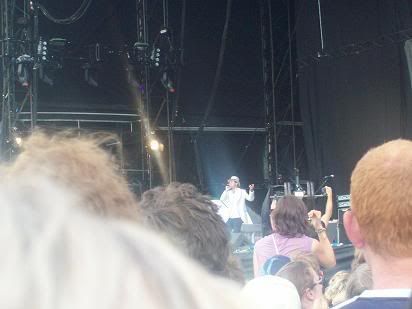 Having been constantly seeing stuff for over four hours I decided that a brief detour back to the campsite was called for. My plan of heading back to the arena sharpish was derailed when I discovered Kyle, Keira and Mark were there and set about some serious drinking. As such the annual tradition of missing bands I wanted to see continued (in this case Tiger Army and Goldfinger.) Feeling rather unsteady on my feet we all eventually wandered back to the arena, where we fought our way across several packed lanes of moving people back to the lock up stage to catch
Anti-flag
. Now I've seen this bands a stupid amount of times over the last few years (maybe 'regular' would be a better choice of word than 'stupid', it would at least be more charitable) and they've never disappointed. Today is no exception as they once again rip the lock up stage a new one. True, the tent is visibly less packed than in previous years, perhaps owing to their earlier main stage-opening slot, but this simply allows me more space to jump around like a spacker. Now usually I spend most of their set running around the centre pole in the circle pit, however today I had promised myself that I wouldn't do this for fear of the 'irony' of doing myself in before tonight's ever so slightly highly anticipated headliners. This promise lasted about thirty seconds into their second (first original) song. Karma (or some such other evil force) struck me down before the song had finished, it stuck me down right onto the floor. No problem, people fall all the time, other people simply pick them up. And that's what happened this time. Oh, but not before somebody ran full pelt over me. Thankfully not hurt in the slightest I never-the-less decided to see this as a sign and quickly retreated backwards to where I could simply look like I was having a fit rather than wake up screaming in the medical tent. All to soon it's over. Bands feeling like they had only been on for five minutes seemed to be a trend this weekend.
After a half-hour drinking session back at the campsite the four of us made our way down to the main stage. The arena is unbelievably rammed, I've never seen so many people, so tightly packed, so far back. It's like lots of people want to
Rage against the machine
or something. We certainly do, its safe to say that I was ever so slightly excited. Taking to the stage an agonising ten minutes late it was always going to be difficult for the band to meet the high expectations I had of them. But, fuck me, they only bloody well go and exceed them didn't they! After a panic inducing few moments standing on the stage completely concealed in guantanamo bay style uniforms the band are led to their instruments and proceed to kick into
bombtrack
…not taking off their costumes for the entire length of the song. Surely they're not gonna wear those the whole set? Thankfully not as they shed them by the second song. Sure the set wasn't perfect, the sound could have done with being a lot louder and there's a total lack of crowd interaction excluding the speech mid-way through wake up but such complaints seem trivial compared to the simple fact; this was fucking Rage. This was a band that I'd grown up listening to, forming a soundtrack to much of my teen years and was a band that I'd never expected to get to see. As such I greet every song with a, usually internal, occasionally loudly shouted, 'fuck yeah it's this one!' and some seriously embarrassing dancing, only topped by some even more embarrassing rapping. But fuck it, as I may already have said, this was fucking Rage! In case you can't work this out, I kinda enjoyed this one. Just a tad.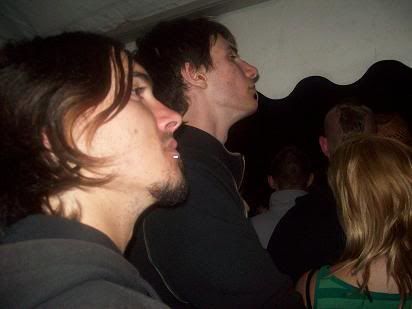 Deciding to leave off the 'penguin shuffle' of the departing crowd we instead headed down to the front to witness the devastation. In practise this meant looked at a lot of people's shoes, as well as watching people hopping around trying to work out which were there's. Needless to say, this was a little bit funny. After some time we decide to join the still slowly moving masses and did eventually make it back to the campsite. Having sobered up slightly over the last two hours of not drinking it seems only right to immediately fish out the rapidly emptying bottle of cider. While this goes some way to making me not notice the cold it's suggested that a fire might be a better idea. Only we don't have any firewood. So somebody's going to have to go get some. Can you see where this is going? I'd classify myself and Kirk's firewood retrieving mission as actually being rather successful, we did indeed return with some wood. However it did take us over an hour to do this, by which point everybody had buggered off to sleep. It took us this long because, being somewhat sociable (or, you know, rather drunk) individuals we got talking to some people at the firewood place. They were not 14. They had seen Rage before. That was really all the information we needed to embark on an hour-long conversation. Thankfully they were at least as messed up as we were, so it's not as if we were talking to people who were desperately looking for a way to get away from the crazy drunks. In fact, I recall trying to leave and them calling us back. Or maybe my memory has made that up to justify my actions. Either way I was feeling rather 'sleepy' when I got back and so decided that collapsing was a wise course of action.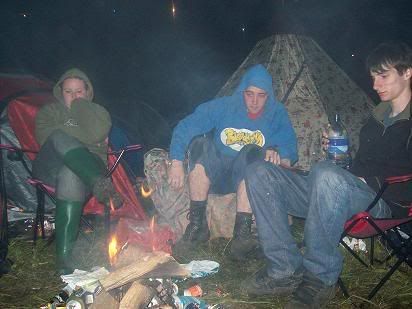 Saturday
Another morning, another hung over walk to the shop near tesco. Its another early start band-wise as I once more head over to the lock up stage to catch
Random hand
opening the day's activities in style. I'm a little bit too fragile to really get into it truth be told, but enjoyed it enough whilst leaning on the front barrier. There's a decent turnout, but then there always seems to be for this stage, and the circle pit around the tower gets in an early appearance, largely down to the subtle hinting of their frontman. So, telling people to do it really. The band seems to be really into it, appearing genuinely happy just to be playing at the festival. At the end they briefly stop to take a picture because 'we might never be back here.' With any luck they'll be proven wrong.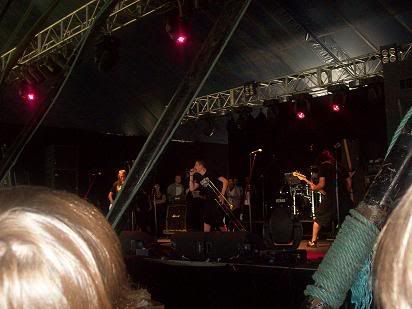 Next I wandered over to the alternative stage, more to sit down than to see anything specific. It's a good thing I do as
Chris Hicks
and
Ross Sutherland
are pretty darn brilliant. Although actually two acts billed separately from each other in practise it's more of a double act, with them frequently doing pieces together. The highlight being the closing rap battle between Freud and Jung…which was just a little bit on the bizarre side. It was during this that Kyle, Kirk, Keira and Mark showed up; they seemed confused about what the fuck was going down onstage. People stand up and crush forward once more (this has never happened in previous years…yet sure if it's a good or bad thing) and this time I'm more purposeful in my joining them as I actually know what's going on. It's an odd stage for
Jeffrey Lewis and the jitters
to be playing on, the sight of a drum kit at the back of stage seeming especially out of place. Weird setting aside it's a great, if short, set. The vocals could have done with being a bit louder, although this is almost sorted out by the end. I'd only discovered this guy about two weeks before the festival and was pleasantly surprised to find him on the bill. The only downside to his set was when I got a text from Mark saying that 'some prick has bust your tent.' Ah for fuck sake, still I fight off the urge to immediately head back to the campsite – perhaps track down said 'prick' – and leave it until the set is over.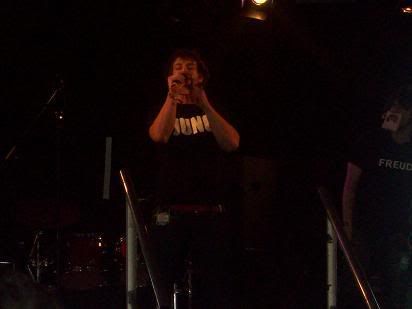 Upon arriving back at the campsite my first thought is that my tent doesn't look that fucked. However a closer look reveals that one of the poles is snapped and there's a bloody great tear in the outer layer. Not good. However as Kyle and myself begin to plan how to make it liveable in, that's a codeword for rainproof, for at least the next two nights we're approached by somebody from the neighbouring campsite. It turns out it was one of his friends that had damaged my tent and that he's currently going to his car to get his spare tent, which they will then set up in the space where my tent was. Apart from the thought of 'why does he have a spare tent with him?' this all seems pretty sound and so I quickly pack away my tent before heading back to the arena. I manage to bear a whole five minutes of the utterly rubbish
Fucked Up
before I decide my time would be much better spent getting some food. Unfortunately I can't be bothered to go very far away from the lock up tent and so can still hear the shite music whilst I eat shite food. Well, at least there was symmetry. I'm now very much in need of some decent music, which was never really going to be an issue as
The King Blues
are up next. They're unique take on punk, which throws in all sorts of other influences, goes down a storm as the tent dances (that's actual dancing by the way) along to each and every song. They don't play a bad number, with each song different from the rest and great in it's own way. They throw in a lot of material from their up-coming second album, which on the strength of the material aired looks set to be even better than their debut. It's all over far too soon, they really could have done with being a few places higher in the billing really.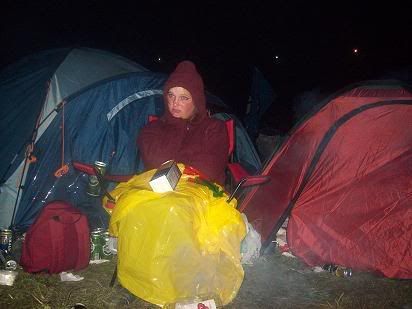 In the gap between bands I track down the others, including a very sweaty Mark, in the middle of the tent. After watching two wasted people kick the shit out of each other for twenty minutes, in a friendly way you understand,
Cancer bats
wander onstage and inspire me to leave the tent by the start of their second song. Maybe they were having a bad day, maybe I just wasn't in the right frame of mind or maybe they were just shit. I wander around for a while, not really seeing much worth noting, just a few middle of the road comics really. I get back to the lock up tent in the middle of
MXPX
, who are all right, just very average. They would have been OK to have on at the start of the day, but bore me by this point. Madly enough during the last song I take a bored glance to my left and spot everybody standing about a metre away from me, where they've been for the past half-hour. People seem a bit tired and out of it, a feeling I can appreciate as I feel exactly the same. Oh well, I reason I'll wake up pretty sharpish once
Flogging Molly
hit the stage. This happens to some extent, as it starts I do snap and decide to ram forward…only to find myself crushed up against one of the fucking poles holding the tent up for the rest of the song. Struggling backward I find myself in one crush after another. There were far too many people in there, the point of this band (to me at least) is to dance/jump/jig about like a tit. However this is very hard to do when there's absolutely no fucking room. I was actually tempted to just bugger off but instead stick it out till the end. Thankfully I did eventually find a decent place where people were just enjoying dancing about instead of relentlessly pushing forward. Ended up having a good time by the end, but was a long time coming.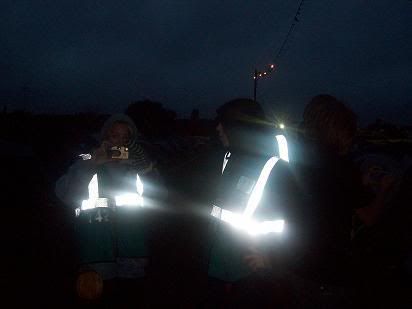 Slowly headed back to the campsite, as there's nothing I can be bothered checking out. Ended up that I didn't go back to the arena again today, continuing the Saturday night trend of there not being a headliner I want to catch. Upon getting back to the campsite I found everybody sat about, it turns out people are running low on alcohol so are planing on heading to tescos. I'm set for alcohol, thanks to the daily morning walk, but decide to head along because I don't find the image of me sitting drinking by myself too appealing. Oh and also because I want to buy some cheap food, a task I totally fail in when I end up buying some chocolate, ice cream, moose type thing. Tasted pretty damn good though. Back in the campsite we set to some moderate drinking and finally manage to get a decent fire on the go, only took us 3 nights! Had the misfortune to hear the start of the killers set, something we quickly drown out by sticking on the CD player. That was a close one!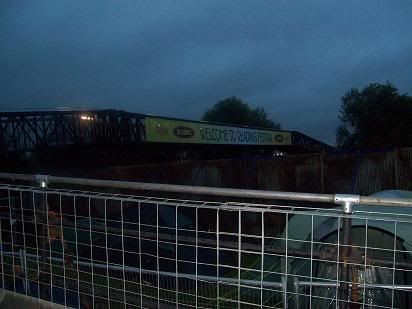 The rest of us drifted back after the headliners finished, including a corpse-like Terrie, and it wasn't that long before I was rather out of it. Decided that one of the pills I picked up on Thursday would go down well. This it did not. In a unique move I managed to entirely skip through the whole boring up stage and instead hurtle strait into comedown territory. Which, if I'm being entirely honest, wasn't exactly what I was looking for. Now feeling rather corpse-like myself I climbed into my tent and collapsed. It seems that crap drugs is becoming a Reading tradition and this year was certainly no exception. At this point the night was looking to be a bit of a fuck-up. But, in a move that surprised me, at 3/4AM I heard someone passing by my tent trying to talk people into going on a wander / charging around the road / I can't fucking remember what he said, but it must have hit a nerve because I jumped (literally I'm afraid) out of my tent, newly opened bottle of cider in hand and went along with them. I'm still pretty wasted (but not in a late arriving MD way I'm afraid) and end up in some truly epicly odd conversations with the other wreakheads still awake.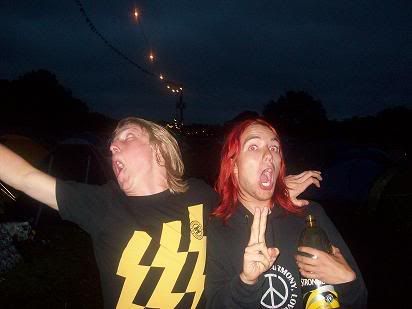 It's not long before I end up losing the people I was originally with and end up, for reasons I really can't recall, on a mission to walk across the bridge to white with another person with my name, but spelt Nic. I provide the alcohol, he provides the k, we both provide the public service of babbling lots of rubbish to each and every person we meet. It took us a brief age to make it to the bridge, most of the punters had long since called it a night and we ended up talking to a bunch of CATs for a long time. They seemed a little bit bored, had apparently been 'guarding' fires that had no people around them. We crossed the bridge, took a few photos to prove we made it…and then headed back the way we came. On the way back had the traditional SS-acting-like-cunts experience, not too bad this year though. Basically a few hilarious members of the SS amused themselves by following us and checking our wristbands every ten metres. Oh, the hilarity, will it ever end? Realising I could do with dying I left Nic to wander off towards a group of people still awake (or maybe they had just got up?) and I climbed into my tent at just past 7AM.
Sunday
Just before 9AM I emerge from my tent feeling surprisingly intact. I still feel like shite, but nowhere near as bad as I should have done. The daily shop wander out of the way we head over to the alternative stage. I get a call from Terrie just as we sit down at the front, I can't hear her so stand up…not sure what I was thinking doing this but it worked quite well as it turned out she wanted to know where we were and was conveniently right behind us. The reason I'm not getting some much-needed sleep is Mr
Beans on toast
who ends up hitting the stage much earlier than billed but still rambles on until his set was due to finish. It's brilliant stuff as per usual, simple very funny acoustic songs taking in the familiar subjects of sex, drugs and politics. Although less of former this year as it turns out he asked his girlfriend to marry him recently and it apparently doesn't go down well for him to sing about sleeping with random people with her sat at the front. Some people eh? It would have been weird if he'd arrived with a plan of what to play and so, like last year, it's largely left for the crowd to shout out songs. That's when he can actually play the bloody things, his voice isn't in the best of shapes making some songs…difficult for the fella. As in, he can't get through them. Oddly this makes the set all the better. Not sure if the 2-litre bottle of white lightning (class) he (almost!) gets through during the set helped that much. His repeated threat of beating up
Henry Rollins
, who is up next, ends comically with Rollins climbing up the block he's on (this in place of the usual chair) to admit defeat. As the acts change people stand and push forward, I manage to summon up the energy to move sharpish, simply because I really want to lean on the bar. I'm beginning to feel last night catching up with me. Rollins was brilliant, occasionally funny and always engaging he angrily rants his way through an hour set taking in everything from writing odd reviews for sex pistols shows, travelling all over the place and how, you know, making sure people have enough food is a pretty good idea. The only thing that would have made it better is if I could have sat down! May just have to check out one of his actual shows for that.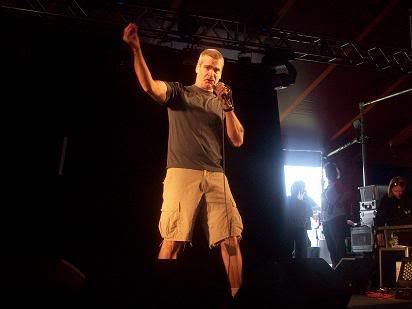 After a lengthily toilet based detour we all head back to the campsite, I did plan to start drinking but after having a staring contest with the bottle for a few minutes decided against it. Terrie, skilfully skiving the day off work 'ill', has totally run out of cash and so has resorted to filling up bags of rubbish in exchange for cans. I think she secretly just wanted to work though. After chilling out for a while I head off back to the arena by myself to see
Emmy the great
over on the festival republic stage. It was a great set, with probably the best sound I heard all weekend. There were a couple of songs I hadn't heard before and talk of an album actually being released at some point, would be a pleasant surprise that! I sometimes forget just how fucking good they are, helpful of the festival to remind me really. I wander past
Mindless self indulgence
on the main stage, the fact that they were meant to open it and are now playing at 5PM should let you know that all wasn't quite right with the main stage. This is due to, ontop of Slipknot's earlier pullout, Avenged Sevenfold have also decided not to play, apparently because of doctors advice against the singer…well, singing. Fun stuff. I really can't be bothered with music at the minute and so head back over to the alternative stage. Some quite a lot of comics, some good, some bad. The only one I can remember the name of is
Yianni Agisilaou
and thankfully that's a good thing as he was bloody hilarious.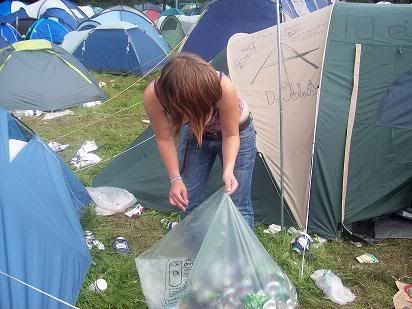 I meet up with everybody outside the glamorous meeting point of a pizza stall. Most of us head off to get closer to the main stage, however a few have been gripped by a peculiar madness. The madness of collecting cups. You see you can get 10 pence per cup. Which is actually kinda helpful when you have no cash and occasionally need to, maybe, eat and, perhaps, have the odd drink or twenty. To be fair I can't take the piss, I did the same on the Sunday at Download. Actually bollocks to that, they were worth 20 pence a cup at Download. Moral victory to me I think. They just about make it back in time for
Tenacious D
, who staggeringly enough are being watched by every single person from our camp, the first and only time this happens all weekend. To be honest the D were not something I was madly looking forward to, don't get me wrong I always planned on going to see them and fully expected them to be decent enough, I just didn't expect them to be anything special. Turns out I'm a complete twat because they were great fun. Sure, it's a comedy band second headlining the closing night of the festival and, yes, this is a little towards the bullshit side of things, but in the actual event this doesn't change the fact that it was great. The songs, most of which I can't resist singing along to, almost play a supporting role to the comedy, which was a good thing as I'm not sure this would have worked on the strength of the songs alone. While it's good from the start things really kick into gear with the sudden appearance of 'the metal', a giant robot like creature that charges onstage before the song of the same name. Woke me up a bit that did. Aside from a lengthily introduction of all the supporting band members (sure they played well and deserve credit, but a few more songs could have easily been played in the time this took) there's no point that the joke wears thin, although I'm not sure if it would have the same impact a second time around without a different stage show.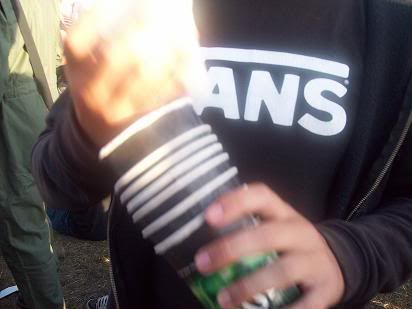 The women leave immediately afterwards leaving just the men (insert metal-fan stereotype joke as you please) to wait for the arrival of the mighty Metallica. Like Maiden they are one of those bands that I've now seen so many times that I don't really feel any excitement in the build-up, in sharp contrast to Rage two days back. However when they hit the stage it takes a whole minute before I remember that I actually like
Metallica
just a little bit. They're presence is felt before they even play a note, this comes courtesy of the fucking unbelievably giant screen that fills up the entire backdrop of the stage. All concerns about not being able to see are immediately solved, seriously that thing should be brought off of the band and made a permanent fixture. When they do start playing the first thing that hits me is the volume, it is really fucking loud. Just as it should be. According to the rumour mill (allegedly, allegedly, allegedly) they paid the £20,000 fine in advance and played well in excess of the council set max volume. True or bullshit, the fact remains that it was LOUD. All the better to hear the set, which disregards their previous 3 albums in favour of playing stuff up till the black album. When they actually wrote decent stuff then (OK there are some great songs after that…but not a lot!) Each song is performed immaculately (they have been doing this for a rather long time) and the crowd response is ecstatic. In a 'hold your breath this could be utter wank' moment two new songs get an airing…and shockingly are not that bad. In fact, they're actually rather good. May actually have to pick up their new album. The set flies by, the stage is blown to shit during the intro to one and then they start the encore with
last caress
. I'm rather happy by this point but get jolted even higher by the announcement 'you want another song?…So fucking what?' I really didn't see them playing
So what
and happily scream along the not at all crass, offensive lyrics as loud as I can. It then left to a pounding
seek and destroy
to close proceedings. We hang about a bit, fully expecting a repeat of the 'oh yeah, we haven't announced it yet but we are playing…' moment from a few years back. This does indeed happen. Damn I need to find cash for tickets now! This was fucking stunning, pretty much the perfect end to the festival.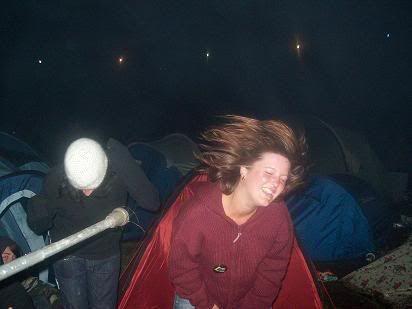 Ah, but the festival is far from over. In fact it's the last night, which tradition dictates should really rank amongst the heaviest nights of the year. Whereas previous years have seen this night quickly dissolve into hours of mindless wandering around the site this year we stay put in the site for the most of it. Seeing as I spent most of last night wandering around like a twat this suits me fine, we spent hours playing drinking games and I ended up utterly off my face. I am only assume everybody else did the same. People certainly seemed rather wasted, check out the last night photos for visual proof of this! At the start of the night the field was pretty war-zone like, with explosions every couple of minutes. This seemed to amaze Jonny, who was sure his field wasn't this bad last year (when he was working fire tower nights.) I reckon he's just repressed the night. Wandered over to some of the larger fires…quickly realised that fires are not really that interesting and so went back to the campsite. My only brush with third-degree burns came when I briefly headed over to our neighbours campsite, only for their fire to explode as I sat down. Lighters do that apparently. Taking this as a sign I headed back the long five metres to our campsite. The point comes when I'm about to retire to the comfort of my new tent when Kirk asks me what I'm doing. This is a very good point and inspires me to turn right around and head over to the lower sixth campsite with everybody else. The two of them that are awake (sorry, can't remember who you were!) seemed pretty shocked by our arrival. It's decided that it would be moderately amusing to wake Dove up so people set out to do this. This goes slightly wrong as they get the wrong tent and end up waking up somebody else. He doesn't seem too annoyed thankfully. Dove on the other hand didn't seem best impressed. Which was kinda the point so all went well there. Eventually I feel like I'm about to keel over where I'm standing so do stagger slowly back to my tent where I easily fall into a deep sleep…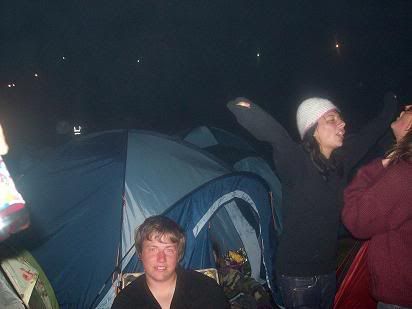 Monday
After, oh at least, 2 or 3 hours sleep I stumble back out of my tent to discover that the coach contingent have already left. The minibus has been scheduled to get here at 12, the idea being that we would be able to get up in time for it. Katherine appears after a bit, turns out she's had a truly amazing night. The tale goes that she and Terrie found some people fighting in the early hours, tried to tell them to stop being twats, at which point Terrie got hit in the throat and promptly had a fit. Cue a night spent in the medical tent. Which sucks just a little bit. We just about manage to pack all our stuff up and lug ourselves over to the lower sixth site. They seem in a bit of a state too, would be a bit of a travesty not to be feeling that way today. We sit about a bit and then head over to where the coach is meant to be meeting up. Of course it couldn't turn up on time, that would involve the driver actually no being an arse. When he does have the courtesy to arrive I quickly collapse onto a seat and start to drift in and out of consciousness. A brief stop for some sick-based activity (not by me I should say!) aside we make good time getting back and it's only a short walk until I experience the joys of a shower (my hair was seriously fucked by this point, all matted together and greasy as fuck. Lovely stuff), some decent, free food and, best of all, a bed. I slept for rather a long time. Every year at Reading seems to be getting better and better and this year was no exception, being the best year ever. With the subsequent loss of DCs contract for Bestival this also marked the end of the festival season for this year, as annoying as this was there couldn't really have been a better way to end it.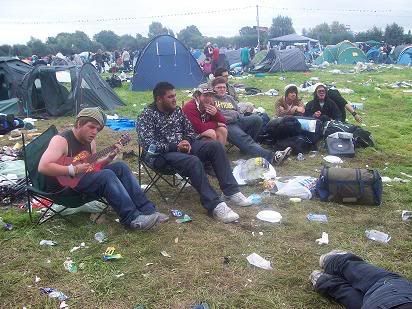 To see more photos go to:
www.facebook.com/album.php?aid=149635&l=7bd9b&id=662510264
and
www.facebook.com/album.php?aid=149657&l=65f74&id=662510264